Poker Games
All the services (games) offered by us can be played by using virtual khelopoints. We sell khelopoints of varying values from 100 to 10,000 depending on the customer's requirement. You can purchase khelopoints through our secure payment gateways using debit / credit cards, NetBanking. khelopoints can be purchased at the rate of 1 khelopoint for 1 Indian Rupee (INR). khelopoints can be used to enjoy our Poker games which are offered as hosted services. You can win prizes by participating in our games and then redeem khelopoints won for exciting prizes. We have listed our games below.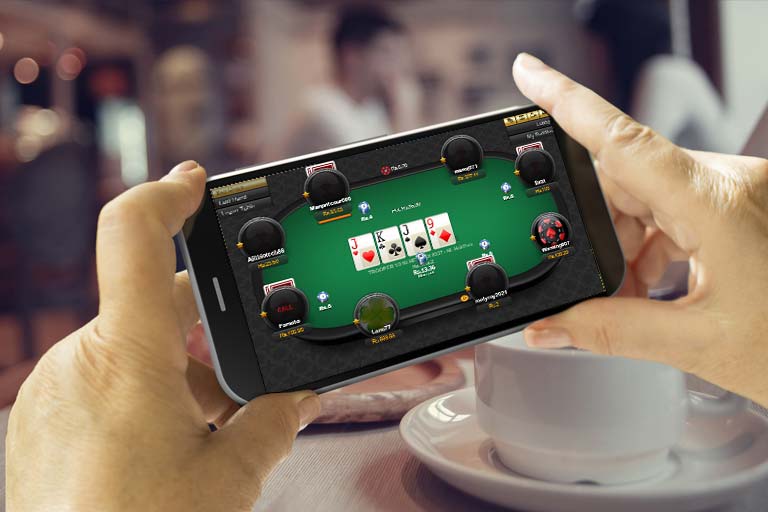 Texas Hold Em Poker is the most popular of the poker games being played today.
Texas Hold'em is a poker variation of seven card stud poker where poker players share common cards called "the board".
It is Played with 2 cards in the hands and 5 cards in the board,best combination of cards will the winning hand
Pot Limit Omaha Poker (also known as PLO or simply Omaha) is a community card poker game similar to Texas holdem, where each player is dealt four cards and you must make best hand using exactly two of them, plus exactly three of the five community cards.
We host Pot Limit Omaha where the maximum bet in any round can only be as big as the present size of the pot.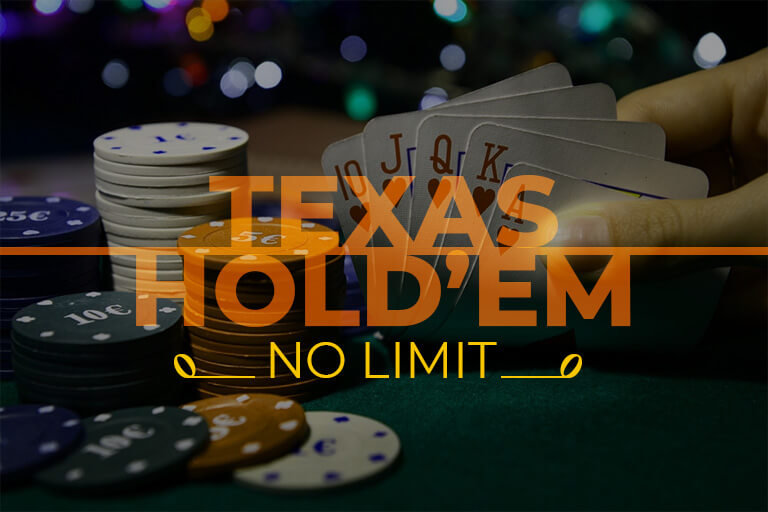 Open-face Chinese poker, OFC, commonly known as Open Face Chinese or OFC, is a variant of Chinese poker where Each player is dealt five cards initially.
Play continues in rounds with each player being dealt one card at a time and placing that card in any available hand.
This process is repeated until all players have been dealt 13 total cards.
The hands and royalties are scored and each player settles with the other players.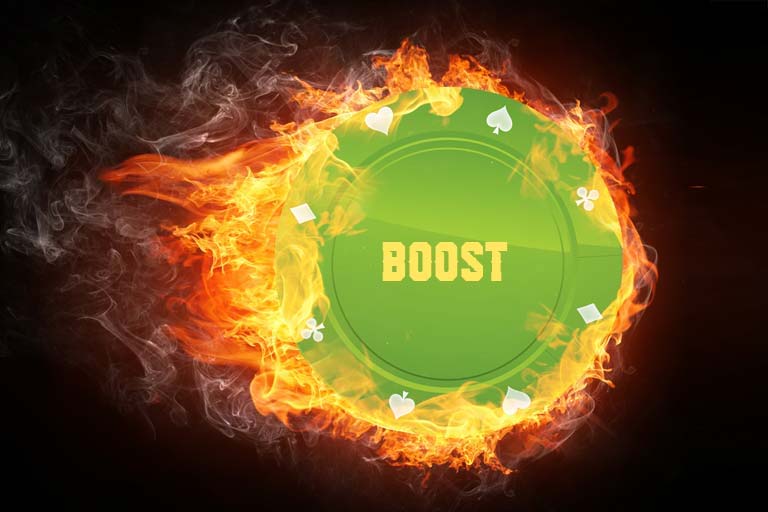 A fast paced high action format of Poker utilized in both cash games and tournaments, in which the registered players play against a pool of players.
The Boost Poker table looks like a regular table, and players who fold their cards are immediately moved onto a random table against different opponent`s before the hand is completed.
The basic rule is fold your hand and get a new one instantly against different opponents.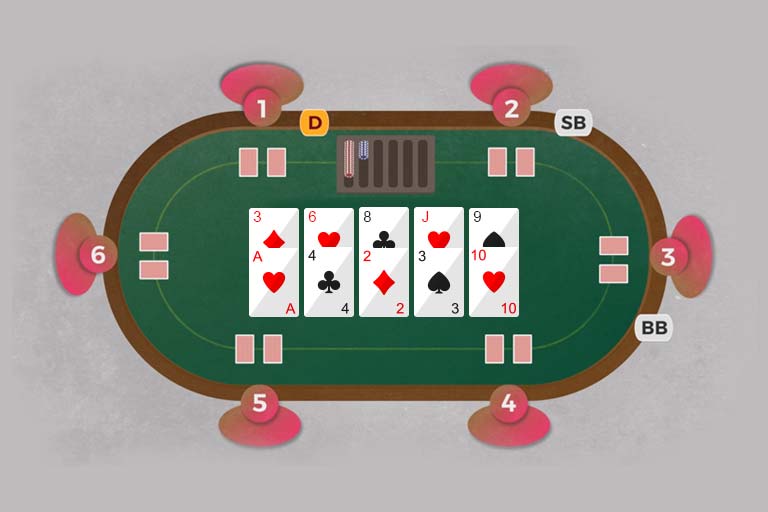 In Poker "Run it twice" befalls when two players are all-in before the river or at the river and decide to deal the remaining cards twice.
Run it twice can be done either after the flop or the turn, but can only be done, after one of the two players is fully all-in.
Both players must agree to run it twice in order for the procedure to be allowed.
The primary reason to perform this move is to reduce variance impact of very large pots on their win rate.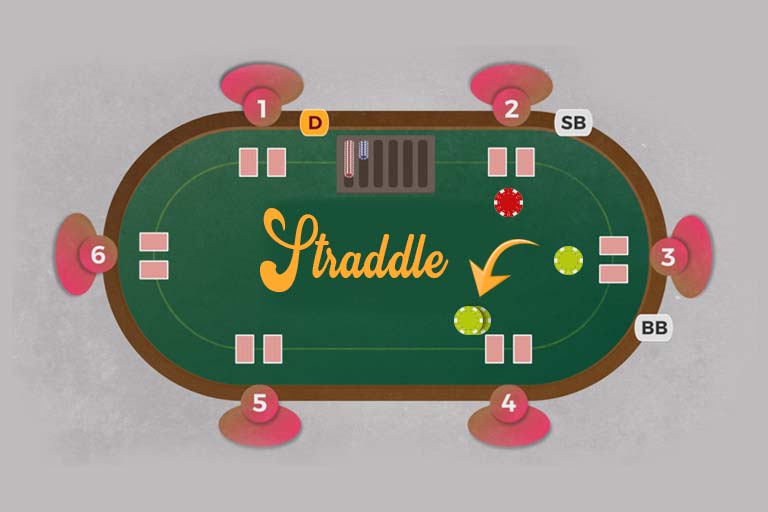 Straddle is an optional and voluntary bet made by the player higher than the blind bet. Straddle in Poker can be twice or more than the Big Blind.
Usually, it is the player to the left of the big blind who straddles.
All players following must call or raise the amount of the straddle bet. Make the move only if you have a great hand.
If you have good hand and you make this right move, the chance of winning the pot increases.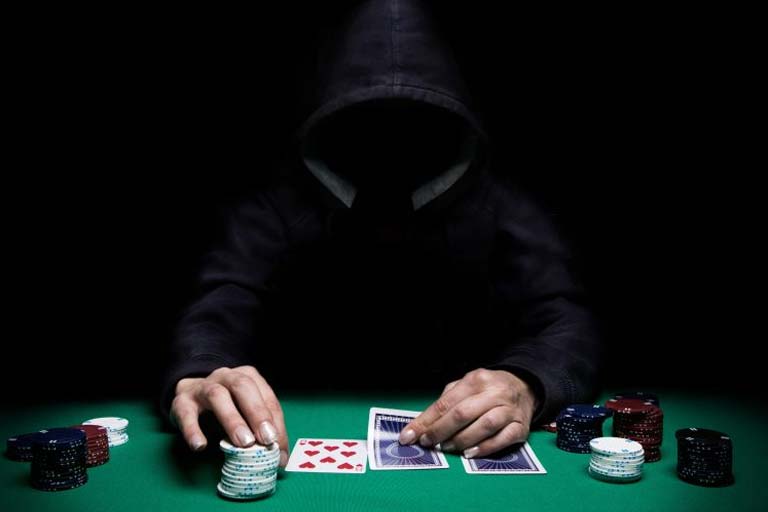 Anonymous Tables are brand new to the K365 lobby and can be are found among the Cash Tables tab and offer complete anonymity by providing each player with a temporary alias, to protect your identity, each player is murky at the table and you are free to play any specific style.
They give you a fresh new playing arena where other players wouldn't guess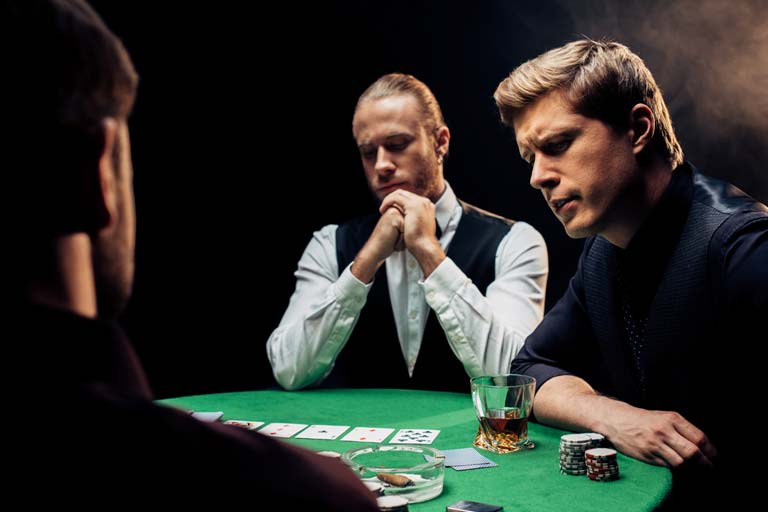 Heads-ups poker is played against a solitary rival. It happens at tournaments and single-table games after the end of each other player, or basically be a pre-arranged one-on-one game.
Heads up poker is also played on all cash game format, where two players play a winner take all tournament for a fixed, previously agreed upon amount of money.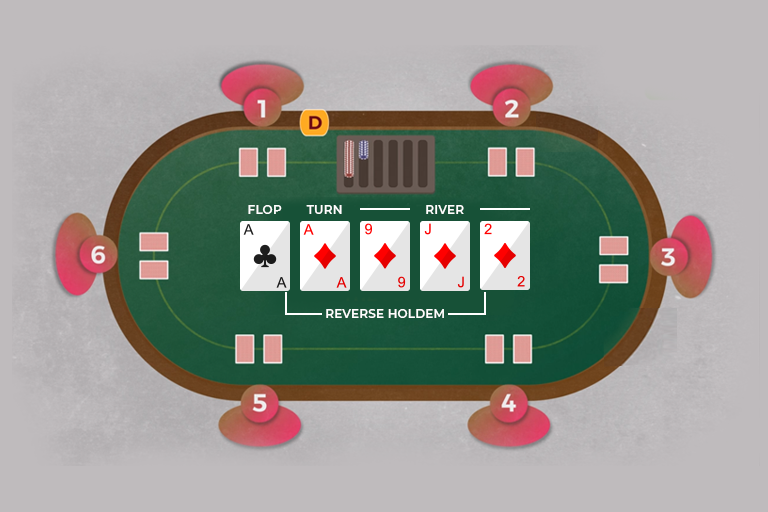 Reverse Hold'em is one of the variants of the most famous Poker game Texas Hold'em. It is almost similar to Texas Hold'em,uses the same hand rankings and betting structure.
After each player has received his/her pocket cards, the initial betting round begins. After the first betting round (Pre-flop), the dealer will flip only 1 community card rather than 3 cards(Flop)
Then its Continue by as usual 1 card (turn),then instead of 1 Card in river like in normal Holdem game,Dealer Flip 3 cards in the River.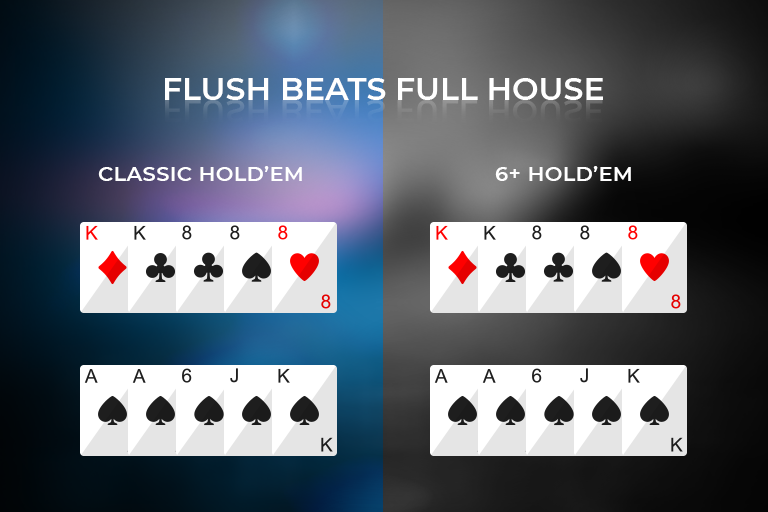 Six-plus holdem is a poker game variant of Texas holdem, where the 2,3,4,5 cards are removed from the deck,so the deck is reduced to 36 cards
Each player is dealt two cards face down and seeks to make the best five card poker hand from any combination of the seven cards.
There are a few differences in the values of certain poker hands when playing 6+ Hold'em.



A flush beats a full house
Three of a kind beat a straight