Texas 6+ Poker (six-plus Holdem)
Texas 6+ is a variant of Texas Hold'em which makes use of only 36 cards from a deck (i.e. from 6 to Ace hence the name Six Plus). It is a 'short deck' poker format that is almost similar to Texas Hold'em except for the number of cards and some hand rankings.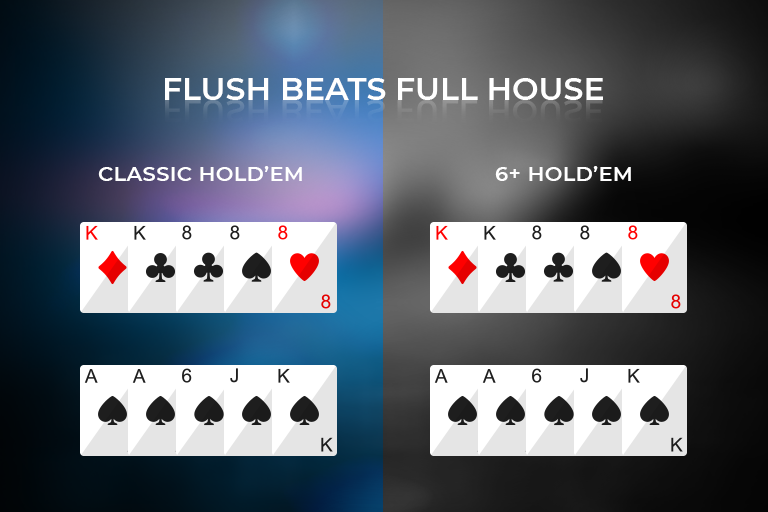 Rules of Texas 6+ Poker (six-plus Holdem)
Texas 6+ makes use of only 36 cards i.e, from 6 to Ace without a joker. Here, all cards lower than 6 are removed from the deck. Each player is first dealt with two cards face down which are known as the hole cards, followed by five community cards face up. After which, the players have to make the best possible five cards from the combination they have received. The winner will be the one who has the best possible hands.
The game also makes use of the 'button blind' structure where every player posts an ante, and the player seated at the button position is the only one who posts a blind.
In Texas 6+, there is only one blind per hand, rather than the traditional small/big blind format. Also, a flush beats a full-house, and Ace, 6, 7, 8, 9 of any suit is classified as a straight. On this, the other hand rankings remain the same as the regular Texas Hold'em.
There are a few differences in the values of certain poker hands when playing 6+ Hold'em.
A flush beats a full house
Three of a kind beat a straight
Play Texas 6+ Poker at khelo365
You can now register at khelo365 and enjoy the benefits of playing Texas 6+. Get ready to experience the thrill and the many surprises that we have in store, especially for you. Simply go to our site, register with easy steps and engage yourselves for the tournament that you are interested in, and get a chance to win BIG.
Related topics
How to Play Omaha Poker
|
Omaha Rules
|
Omaha Poker Strategy