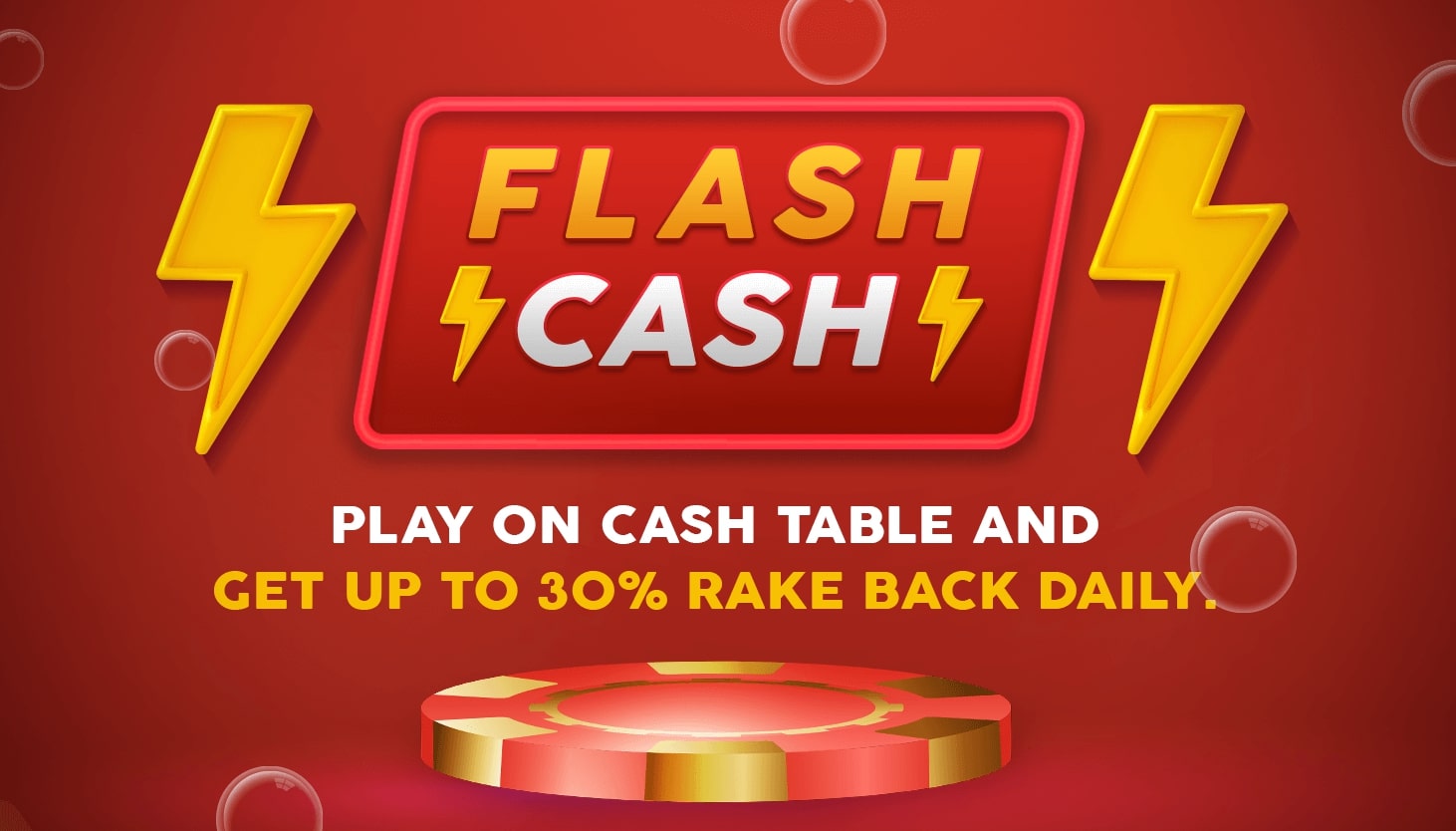 Have you been feeling quite bored and out of touch lately? Don't worry anymore, we at khelo365, we're back with a banger, the "FLASH CASH". You now have the opportunity to win up to 30% rake back daily by playing on cash tables.
It has been a stressful year for everyone and we understand the constant need to keep reminding ourselves why we should keep going. This new promotion is a reminder that even when you feel like all hopes have been lost, we at khelo365 will always try and work towards bringing the best options available for our dear players.
The "Flash Cash" is one of the biggest opportunities for you to win on a daily basis so that it will help you keep going and unleash your talents and skills through this platform. Grab your chance now before anyone else does and expose your hidden intellect through khelo365.
Refer to the following table to receive your awards according to your stakes:
Stakes: 150/300, 200/500 & 500/1000
| Leader Board points | Prize |
| --- | --- |
| 10,000 - 35,000 | 5% Bonus Money |
| 35,001 - 85,000 | 10% Bonus Money |
| 85,001 - 1,75,000 | 20% Bonus Money |
| 1,75,001 & Above | 30% Bonus Money |
Stakes: 50/100 & 100/200
| Leader Board points | Prize |
| --- | --- |
| 5,000 -15,000 | 5% Bonus Money |
| 15,001 - 40,000 | 10% Bonus Money |
| 40,001 - 75,000 | 20% Bonus Money |
| 75,001 & Above | 30% Bonus Money |
Stakes: 10/20 & 25/50
Leader Board points
Prize
3,000 - 7,000
5% Bonus Money
7,001 - 15,000
10% Bonus Money
15,001 - 40,000
20% Bonus Money
40,001 & Above
30% Bonus Money
Stakes: 3/6 & 5/10
| Leader Board points | Prize |
| --- | --- |
| 600 - 1,600 | 5% Bonus Money |
| 1,601 - 4,000 | 10% Bonus Money |
| 4,001 - 7,500 | 20% Bonus Money |
| 7,501 & Above | 30% Bonus Money |
Stakes: 1/2 & 2/4
Leader Board points
Prize
100 - 500
10% Bonus Money
501 - 2,000
20% Bonus Money
2001 & Above
30% Bonus Money
Terms and Condition:
No promo code is required to enter the promotion.
Comp points conversion will not be allowed during the promotion.
Any chip dumping or collusion could lead to disqualification.
In case of any disputes, Khelo365.com's decision is final and binding