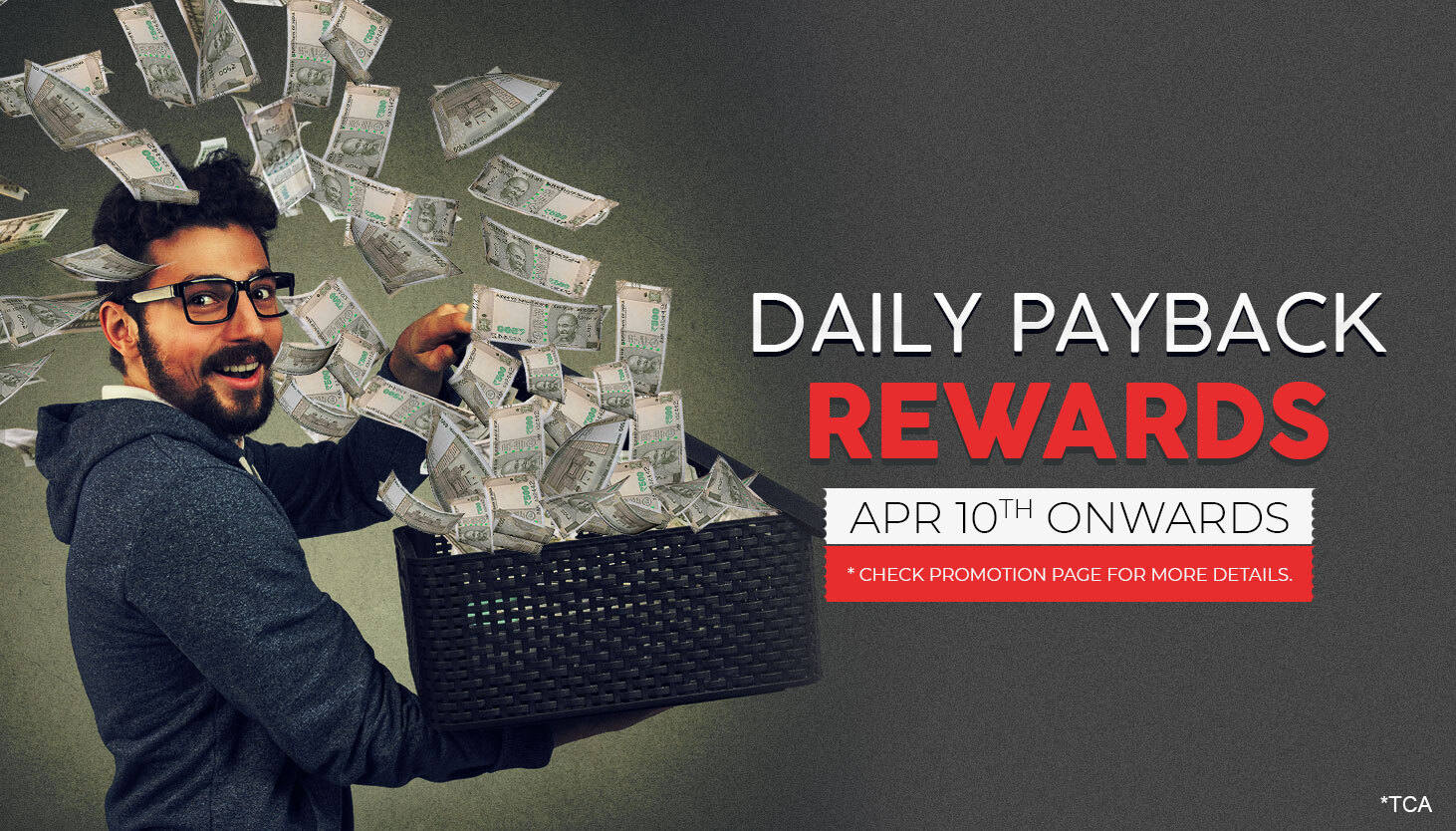 What is Payback Rewards?
As the name suggests "Payback Rewards" is the Reward earned as Cash bonus for the time and money spent at Khelo365 Cash tables. Every move of yours, accounts to the accumulation of Loyalty points thus building your payback rewards. Your chips might rise or fall on the game table, but this will keep moving forward to the destination. It's just about playing Poker and getting the chips your way. PLAY MORE TO GET MORE.
Now get rewarded for the time and effort that you put in the poker room cash tables only at khelo this winter season. It's time for payback, khelo365 is excited to introduce to you the new "Daily Payback Rewards", that is going to fulfill your wishes. Experience the game and feel the urge of wanting to play for more.
Gear up, join now and participate in the most amazing payback rewards. Also win exciting instant bonuses and celebrate the festive season and New Year in a more auspicious way.
How to start it?
Every Daily Payback Rewards will start at 12:00 AM and end at 11:59 PM.
Players will be automatically eligible to participate in the promotion once they start playing on cash tables.
Prizes will be paid once the contest ends everyday.
3/6 & 2/4 & 1/2
| LBP (1RAKE=1LBP) | Prize(INSTANT BONUS) |
| --- | --- |
| 250 | 5% |
| 750 | 10% |
| 1,500 | 15% |
| 2,500 | 20% |
| 4,000 | 25% |
| 6,000 | 30% |
| 10,000 | 40% |
| 15,000 | 50% |
5/10 & 10/20
| LBP (1RAKE=1LBP) | Prize(INSTANT BONUS) |
| --- | --- |
| 1,000 | 5% |
| 2,500 | 10% |
| 5,000 | 15% |
| 10,000 | 20% |
| 16,000 | 25% |
| 23,000 | 30% |
| 32,000 | 40% |
| 45,000 | 50% |
25/50 & 50/100
| LBP (1RAKE=1LBP) | Prize(INSTANT BONUS) |
| --- | --- |
| 4,000 | 5% |
| 10,000 | 10% |
| 18,000 | 15% |
| 30,000 | 20% |
| 45,000 | 25% |
| 65,000 | 30% |
| 90,000 | 40% |
| 1,20,000 | 50% |
100/200 & 200/500
| LBP (1RAKE=1LBP) | Prize(INSTANT BONUS) |
| --- | --- |
| 8,000 | 5% |
| 18,000 | 10% |
| 30,000 | 15% |
| 50,000 | 20% |
| 75,000 | 25% |
| 1,00,000 | 30% |
| 1,50,000 | 40% |
| 2,00,000 | 50% |
Terms and Condition:
No promo code is required to enter the promotion.
Comp points conversion will not be allowed during the promotion.
Any chip dumping or collusion could lead to disqualification.
In case of any disputes, Khelo365.com's decision is final and binding