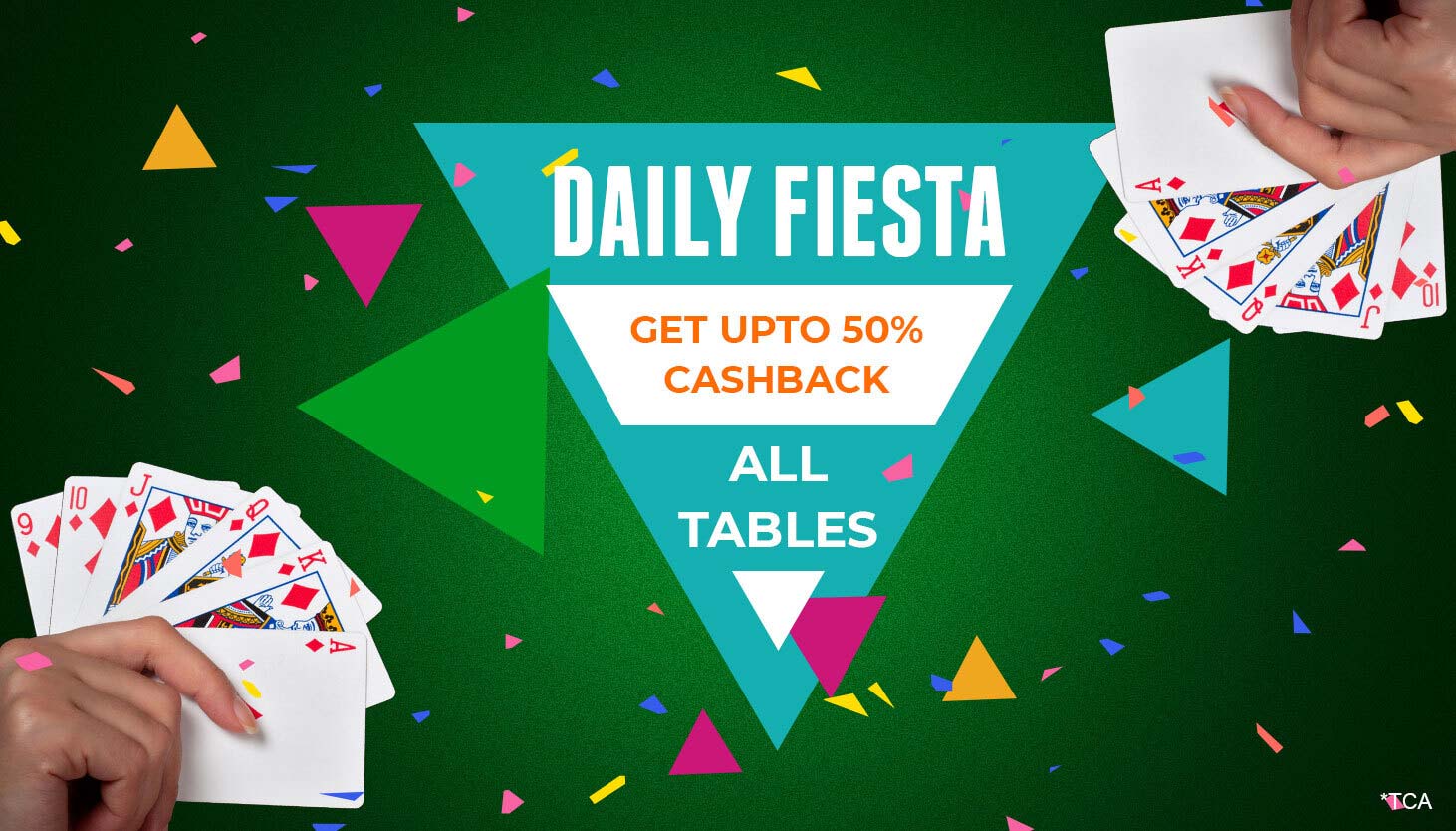 The Joy of July this season unfolds with the "DAILY FIESTA" offering Instant Bonuses Upto 50% on a daily basis. Earn BIG this July, playing on all NLHE and PLO tables in Khelo365 – An impeccable storehouse for real Poker players.
Introducing new variants – Omaha 5 and 6, the new tables in the Lobby to quench your Poker thirst this season with daily rake backs upto 50%. It is the simple mantra of PLAY MORE to GET MORE.
What do I get and how do I get? The answer is simple – Fiesta like there is no Manana, Keep playing consistently to build your Loyalty points to size your percentage of Rake back.
Your enrollment to the Fiesta starts when you join any of the cash tables (NLHE & PLO). Your rewards will hit your account the minute the clocks strikes 00:00 hours midnight. Concerned about the stakes? Need not worry, it's designed for all, right from 1/2 to 200/500, the choice is yours.
This FIESTA – PLAY LONG, WIN BIG & REDEEM EVERY TWO HOURS.
Every Daily Fiesta will start at 12:00 AM and end at 11:59 PM From November 17th 2020.
Players will be automatically eligible to participate in the promotion once they start playing on cash tables.
Prizes will be paid once the contest ends everyday.
3/6 & 2/4 & 1/2 STAKES
| LBP (1RAKE=1LBP) | Prize(INSTANT BONUS) |
| --- | --- |
| 250 | 5% |
| 750 | 10% |
| 1,500 | 15% |
| 2,500 | 20% |
| 4,000 | 25% |
| 6,000 | 30% |
| 10,000 | 40% |
| 15,000 | 50% |
5/10 & 10/20 STAKES
| LBP (1RAKE=1LBP) | Prize(INSTANT BONUS) |
| --- | --- |
| 1,000 | 5% |
| 2,500 | 10% |
| 5,000 | 15% |
| 10,000 | 20% |
| 16,000 | 25% |
| 23,000 | 30% |
| 32,000 | 40% |
| 45,000 | 50% |
25/50 & 50/100 STAKES
| LBP (1RAKE=1LBP) | Prize(INSTANT BONUS) |
| --- | --- |
| 4,000 | 5% |
| 10,000 | 10% |
| 18,000 | 15% |
| 30,000 | 20% |
| 45,000 | 25% |
| 65,000 | 30% |
| 90,000 | 40% |
| 1,20,000 | 50% |
100/200 & 200/500 STAKES
| LBP (1RAKE=1LBP) | Prize(INSTANT BONUS) |
| --- | --- |
| 8,000 | 5% |
| 18,000 | 10% |
| 30,000 | 15% |
| 50,000 | 20% |
| 75,000 | 25% |
| 1,00,000 | 30% |
| 1,50,000 | 40% |
| 2,00,000 | 50% |
Terms and Condition:
No promo code is required to enter the promotion.
Promotion Includes all NLHE and PLO tables in khelo365.
Comp points conversion will not be allowed during the promotion.
Any chip dumping or collusion could lead to disqualification.
In case of any disputes, Khelo365.com's decision is final and binding